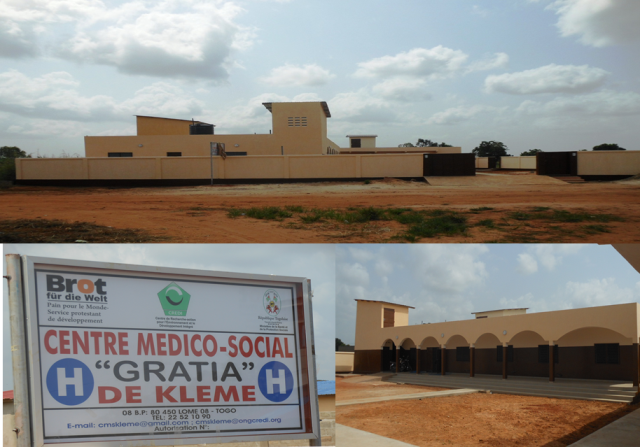 GRATIA is the name of the new Medico-Social Center which opened its doors in the village of KLEME located in the canton of AFLAO-SAGBADO. The opening ceremony was held on Thursday 15 December in that center, in the presence of the representative of the Prefectural Health Director, the representative of the canton of AFLAO-SAGBADO, the representative of the village chief of KLEME , Representatives of other NGOs, members of the Board of Directors of CREDI, CREDI staff and the people of KLEME and its surroundings.
Opened from today, the GRATIA Medico-Social Center includes 02 consultation rooms, 01 care rooms, 02 hospital rooms, 01 guard room, 01 laboratory, 01 pharmacy, 01 maternity center, which includes 01 Prenatal consultation room (CPN), 01 childbirth room, 01 consecutive layers and 01 guard room.
"At the maternity clinic we will have prenatal consultations, childbirth, weighing of children, vaccination, family planning and many other things," said MELESUSU, midwife at the GRATIA CMS and responsible for maternity.
The general medical service offers general care, general surgery, nursing care in general (dressings, injections, infusions, etc.).
In their various speeches, the personalities in attendance urged the population to take them to the health center in order to put an end to self-medication. The representative of the village chief of KLEME had not failed to remind the staff of the GRATIA CMS to show patience of indulgence and kindness towards the patients who would attend the center.
The Chairman of the Board of Directors of CREDI asked the public to trust CREDI, which has a long experience in setting up and managing a health center and has chosen to establish the GRATIA CMS at KLEME-AGOKPANOU after long studies and in view of the remoteness of the health centers in the area.
"I was impressed when I arrived, the setting, the context and the geographic location prove that it is a relevant project that really meets the needs of the population. After the visit, even though I was not a specialist, I find the quality of the work impressive, "said M AGBANYO Head of BK Consult, a consultancy and support service for Bread for the World in Togo.
Built by the NGO CREDI with the support of "Brot für die Welt" (Bread for the World – Protestant Development Service), CMS GRATIA is part of CREDI's mission "to work for sustainable development Of populations living in rural and urban areas in Togo through actions in support of food security and access to basic health services ".
It should be remembered that the GRATIA CMS is the fourth health center set up by CREDI after those of ATAHONOU, AFIDENYIGBA and SAGADA in the prefecture of Vo.